Final six
Tx: Saturday 8th May, 2010
Last week on Over The Rainbow - the most SHOCKING result so far as Stephanie left the studio, still beseeching us to call him Mr Bojangles! Now, our six remaining Dorothys need us! Jessica's intonation is really annoying! Let's see what transpires in this Special Double Elimination Week!
Clap, clap, clap - here is Graham, who reminds us that two girls are going this weekend, and then introduces everyone as usual with the green pyrotechnics. And oh dear me, the girls are singing 'Defying Gravity', because that is from Wicked, which is almost like The Wizard Of Oz. Steph would make a good Elphaba. Jenny is struggling at the bottom of her range. I'd totally forgotten about Danielle AGAIN, and she is flat on her "leeeeeeeeeeeap" leading into the first chorus. Disappointingly limp belt at the end, but I guess they can't really let them riff when there are six of them singing in unison. [
This song really does not suit being sung as an ensemble number. - Steve
]
A few election-related puns from Graham, before he introduces Sheila, John and Charlotte, and then has a little chat with Lloyd Webber. He then has a little jabber about Stephen Schwartz not going to the opening night of Wicked because he was scared it would flop, "so Dorothys, good luck." What? Charlotte is going to give us an exclusive later, snarf, and once more Graham tells him that she can't be Dorothy. There will be more canine interludes later, by the way.
Time for some singing. Danielle really wants to be Dorothy and thinks she will be great because she is raw and youthful and fresh and gritty. Not memorable, you'll note, but then we can't have everything. Jessica did another peculiar unrestrained performance last week and can't believe she's in the final six. She says she is quirky and has weird facial expressions. Who knew? She thinks she would be "a different Dorothy". Different to whom? Nobody has ever played the part in the history of the world, have they?
Up first, Danielle, singing 'On My Own' from Les Miserables, as sung by every teenage girl in the whole world who's ever had any kind of interest in musical theatre, so she should do well with this. Except everyone knows this song back to front so a competent performance, like this, isn't that interesting - you need to do something exceptional, and that nasty harsh belt she tries to get away with really isn't it. [
I thought the singing was decent, apart from the hideous phrasing of "PRETEN-DAAAAANG", but the acting just wasn't there. She basically acted it the same way that she did for 'Just A Little Girl', and all the huffing and eyerolling wasn't appropriate here. - Steve
]
Jessica has a little hat pinned to her hair and I wonder at first if she's going to give us a bit of Eliza Doolittle, but no, she has a horrible floral mini-dress, which is apparently what one wears to be Mary Poppins and sing 'Supercalifragilisticexpialidocious', which she gurns her way through. She also has an umbrella which enables her to do a dreadful Dick Van Dyke tribute dance routine. She seems to be incredibly out of breath, and veering out of tune. This is not a good start to the show. [
Weirdly, I quite liked this. I actually thought this was the most sense Jessica's ever made on this show, performance-wise. - Steve
]
Danielle and Jess went shopping in Covent Garden this week and were accosted by strange people who think they're famous. Jessica isn't superstitious, which is why she danced with an open umbrella. Marvellous. Charlotte thinks Danielle's top notes were shouty but enjoyed the overall performance, and that Jessica being out of breath didn't bother her. It'd bloody bother you if you saw that on stage. Sheila thought Jessica should have relished the funny word a bit more, and loves what Danielle does, likening her to a 12-year-old Catherine Zeta Jones, or something. John enthuses about Danielle's energy and grace, but thinks she's a better actress than she is a singer, and then calls Jessica a "Marmite Dorothy". Andrew says they chose Danielle's song deliberately as a contrast with 'Mambo Italiano', and then says that she has to learn better technique with her singing.
Steph was sad to sing off last week but thought she would go, not Stephanie. She thinks Dorothy must be courageous, and she has courage. Well, yes, perhaps, but you have to ACT the role, it's not about whether you are most like her. Then I love her a bit for saying that Dorothy is a 12-year-old girl "and I'm the height of a 12-year-old". Jenny says performing is just her, and muddles up her words. She would be a "real" Dorothy, not a "staged performance - just me, doing it from the heart". That sounds a GREAT idea. Don't act it!
Steph is singing 'Somewhere' from West Side Story. Her voice is so beautiful, but I really think it sounds too mature for Dorothy, or even Maria, come to that. Still, it's nice to see someone manage to act a song as well as hit the notes. Her belt is much better than Danielle's, particularly as it hits right on her break too. Obviously it's a Streisand interpretation rather than the performance from the show itself, but it's nice.
Jenny is taking on one of the songs Jodie Prenger did brilliantly two years ago, 'Send In The Clowns', and she has the opposite problem to Steph - she sounds too young to be singing a song like this. She is endeavouring to act it, though, even if it isn't entirely convincing, so kudos to her for that. She's screwed over slightly by the mad cuts they've made in the song to fit it into a two-minute time-slot. [
Yeah, this really was a no-win situation for Jenny, wasn't it? She tried her best, bless her. - Steve
]
Steph tells Graham that nobody's trying to poison each other yet [
not now they no longer have to contend with Stephanie's cooking, I should think - Steve
]; Jenny talks in reality TV show cliches. Sheila thinks Steph was wonderful and is glad that she's still there, and says that Jenny's song should be more ironic rather than opting for "sad" all the way through. John loves Jenny's up-tempo work but her acting is half-baked. OUCH. [
People in glass houses... - Steve
] He thinks Steph is very versatile, and comments on the truth and beauty of her performance. Charlotte thinks Jenny had moments of magic, and that Steph is superb. Lloyd Webber gives us some mad anecdotes and thanks them both.
Next? Why, it's Sophie, who wanted to get experience from the show and didn't imagine that she'd be in the final six. She thinks she is innocent, sweet, and that the part suits her the best. Lauren says she consistently gives her all in ALL her performances, and as Dorothy she would hit the top level all the time. She thinks she'd be a safe pair of hands because she's very professional. She keeps dreaming that she could be Dorothy, and now she COULD be Dorothy. Well, I keep dreaming that I'm having a passionate affair with Richard Armitage, but THAT's not going to happen.
Sophie is singing 'I Enjoy Being A Girl' from Rodgers and Hammerstein's Flower Drum Show. She actually sounds quite comfortable doing this kind of stuff vocally, but she doesn't seem to be able to convey the meaning of the words. It's a JOKE song, Sophie! Have some fun with it!
Lauren is giving us some Sondheim - 'Being Alive' from Company. She normally does a good job of the songs with content that let her act. This, though, just makes me wonder if she can do any extreme emotion other than VERY ANGRY. I do enjoy her face on the word "confused", though, which denotes confusion in a Joey Tribbiani style. Maybe Steve will screenshot it for us if we're nice. [
This one? - Steve
]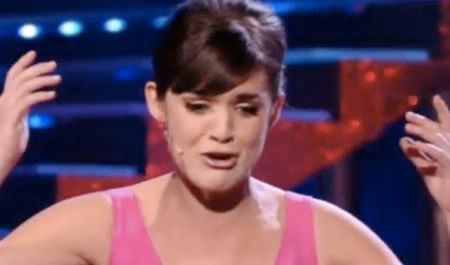 Still, it's another polished vocal show from her.
Lauren says she gives herself a talking-to before each show; Sophie says she is getting more confident. John loves Sophie's openness and says the camera loves her, but that's the problem - she's small and understated and she'd get swallowed up in a theatre. He says Lauren is singing songs that other girls in the West End wouldn't even dream of attempting, and she has the best voice in the competition. Charlotte thinks Sophie did a great performance, John interrupts, and then she dismisses him with, "Yeahyeah." HA. She suggests to Lauren that she could rein in her voice a little bit, but still liked it. Sheila wanted Lauren to do more with the lyrics, and thinks Sophie should have done something more funny with her material, but thinks she'll get better once she realises she can make a fool of herself. Lloyd Webber agrees with Sheila - Sophie isn't happy with movement, and Lauren is vocally strong but should avoid her tendency to shoutiness.
Ooh, lines are open! If you've not already had enough of voting, do so now! There's a recap, interspersed with the girls telling us how brilliant they are and why theyd be good Dorothys. Worryingly, Sophie already thinks she IS Dorothy. Should someone tell her it's not real? [
Somehow I do not believe the girls on this show are especially concerned with what is or is not real. - Steve
]
Canine VT time. The girls go to a film set to meet Bobby the Westie and act out a scene with him. Jessica loves dogs; Steph keeps calling him "it"; Danielle's dog isn't that well-trained; Jenny breaks things. The scene is the one where Dorothy is reunited with her only friend, the dog. Steph does some amazing crying. Jessica does some crazy faces but does seems to like the dog. Danielle is strangely subdued when Toto returns. Jenny is rubbish with the dog, who runs away. [
I smell sabotage. - Steve
] Lloyd Webber is sniffy about her not having a connection with him, despite being a cat person himself - he mentioned that earlier in the series. He then mocks Sophie for packing up her bedding when she runs away - "If she does that every night, it may get rather expensive on the scenery front", he says. Except she's not REALLY running away, is she? She's acting. The bedding would be in the wings. Jesus, what's wrong with everyone on this show tonight? He notes that Steph wasn't good with the dog, but thinks [
erroneously - Steve
] that Danielle was strong , and that Jessica was decent too. Jenny was not good, and Lauren has a natural rapport with animals, as does Sophie, who needs to polish up her acting but has time to do so. [
The timescale in Lloyd Webber's head is so weird. These girls apparently have time to learn how to act, but not to cultivate a friendship with a dog. - Steve
]
Oh, srsly? The girls are singing 'Talk To The Animals' from Dr Dolittle. There's a quick switch of camera away to a beaming John Partridge, who is an increasingly peculiar colour. Danielle's high notes are still not good - and she can't now decide whether or not to belt. Sigh. Young people today. Lloyd Webber makes a relatively good pun about being "Totogenic". He tells everyone to remember what they've seen throughout the series when they're voting tonight.
Montage VT of tomorrow's mission, where the girls have to bribe dogs and impress children. Looks a stormer. Have fun, Steve!
Ooh, another montage to waste a bit more time before the votes come in, telling us about the BBC Performing Arts Fund that we pay for with our phone calls. Ooh, it's Briony, who didn't get to be Maria, and was very insanely teenage! The Fund is paying for her to go to Arts Ed at the moment. We also meet Fra Fee (no, really), who's also had his tuition paid for while he's starring as Billy in Dirty Dancing in That West End. Aw, and there Briony is in the audience tonight. Good for her.
Then Charlotte sings, and it's fucking awful. Although I've decided I don't like her any more because she says she'll change her name when she gets married.
Who Is The Bitch That You Think Will Go This Week? Danielle thinks Steph is in danger because she was bottom two last week; Jessica says Danielle was shit in rehearsals; Lauren thinks Sophie is rubbish on the live shows; Sophie thinks Jenny may go; Jenny thinks Steph; Steph thinks Jenny, because she knows fuck-all about musical theatre.
What do the panel think? Sheila says Sophie is not Dorothy; as does John; but Charlotte thinks Jenny should go. Ooh, regionalist!
So the results - Steph is through; as is Danielle; incidentally Jessica sometimes looks exceptionally beautiful and other times completely crazy, as she does here when Graham says, "Jessica, you are - still in the running to be Dorothy!" and then scurries to the Dorothy bleachers muttering, "EVIL, THAT WAS EVIL!" like she doesn't know her
microphone is on or something
, and we all know that can only lead to
bad bad things
[
even better - my boyfriend the lip-reading expert is convinced that after a sound technician swiftly turned down her mic, Jessica went on to say "that was BLOODY EVIL". Hee. - Steve
]; Jenny is in the bottom two, as is Lauren, which means Sophie could still be Dorothy. If it were down to votes alone, Lauren would be going. Ooh, controversial.
The girls' sing-off song is Bridge Over Troubled Water, like they want to be in Hear'Say or something. On the plus side, at least this has some harmonies and isn't just a contest of volume and vibrato. Lauren would win that, anyway. Graham bewails a "terrible situation", ie the situation around which this whole show is based. Lloyd Webber saves Lauren, obviously, and at least Jenny knew that would happen. He says that Jenny is talented but she is so small in her performance and rubbish with dogs that she wouldn't be a good Dorothy. Brilliantly, he then says that Lauren's top range is screechy, and maybe that she is a "cat man". Jenny says some reality TV cliches and manages to keep a hold on her tears.
So she goes to sing her final number, and Danielle kisses her, though not on the mouth as she did with Dani. And Jenny takes her seat on the sparkly moon and gives a performance much better than any she has ever done in the live shows. Though with an occasional bit of sidegob, which is an offence automatically warranting elimination. She then beams at the end and winks at the girls, which is a much better look than defiance or torrential weeping.
Graham PERSONALLY reopens the phone lines, ready for tomorrow's second elimination. Then there is another recap. Danielle's "pretendinggggg" sounds even uglier for the third time of hearing. And then our final five Dorothys do a box-step-style medley of songs from The Wizard Of Oz. [
And Danielle, of course, gets the only song that's actually sung by Dorothy. I mean, there was no doubt that she's this year's Pirate Jessie Who Can Do No Wrong, but must they make it quite so obvious? - Steve
] Lauren does a bit of an Elvis sneer for reasons uncertain. John informs us that we should pick the girl who is best for the part. Charlotte is not ready to lose Lauren. Lesbian. Sheila wants the girls to raise their ideas of what Dorothy should be.
And it's down to the final five! Who will go tomorrow? Join Steve to find out!